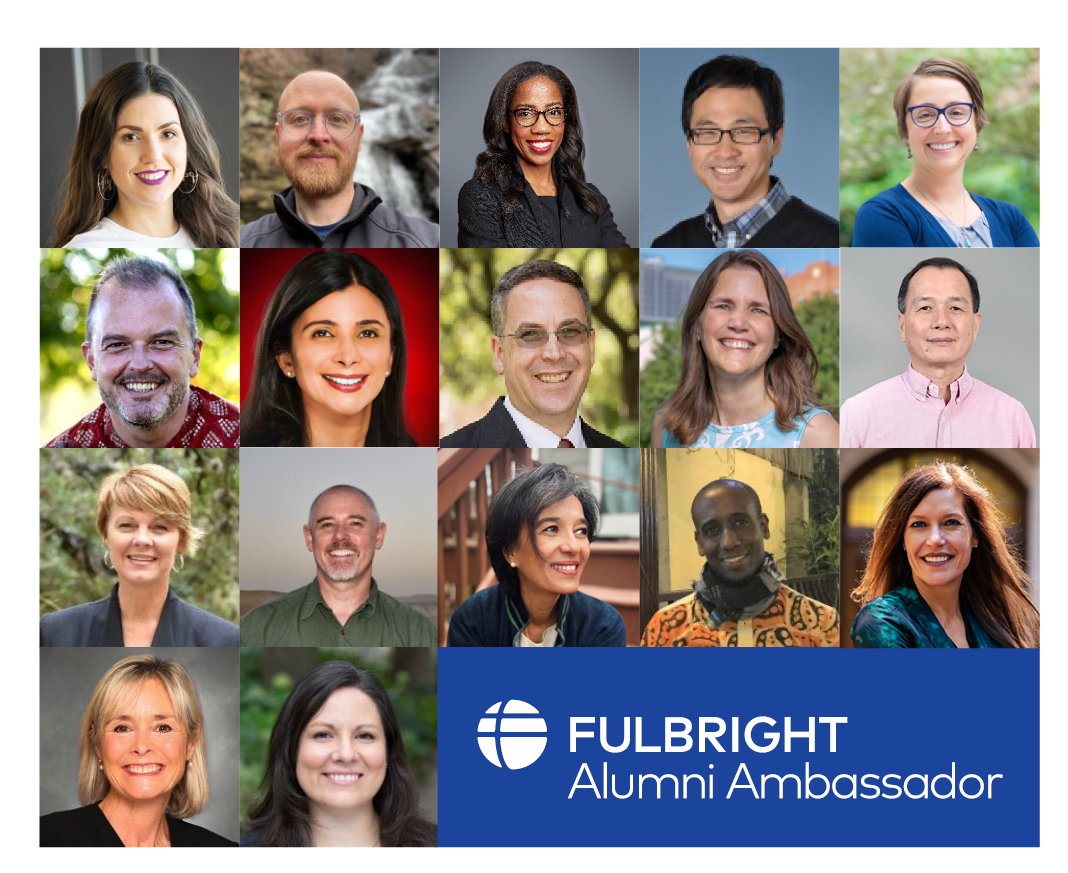 The Institute of International Education (IIE), administers the Fulbright Scholar Program in collaboration with the U.S. Department of State's Bureau of Educational and Cultural Affairs. The worldwide success and sterling reputation of the Fulbright Program has been built on the talent, commitment and professionalism of scholars who have served as Fulbrighters at universities and research institutions in more than 160 countries.
Recognizing the passion Fulbright Scholars bring to their work and the tremendous difference they've made in American academia, we have expanded our engagement with the U.S. higher education community by including Fulbright U.S. Scholar alumni in our outreach efforts. Fulbright Scholar Alumni Ambassadors serve as official representatives of the Fulbright Scholar Program at the events for which they are selected.
Meet the Ambassadors
Name

Sort descending

Countries
Discipline
Institution
Abraham, Guenet
Ethiopia
Visual Arts
University of Maryland, Baltimore County
Alexander, Gregory
Australia
Nursing
Columbia University
Bandeen, Heather M.
Norway
Education Policy
Sourcewell, Minnesota
Bauer, Gretchen
Ghana
Political Science
University of Delaware
Brown, Donathan
Slovenia
Communications and Political Science
Northeastern University
Cahnmann-Taylor, Melisa
Mexico
TESOL and World Language Education
University of Georgia
Coryell, Joellen
Italy
Adult, Professional, and Community Education
Texas State University-San Marcos
Cotton Bronk, Kendall
Greece
Psychology
Claremont Graduate University
Covert, Lisa
France, Peru
History
College of Charleston
Famiano, Michael
Japan
Physics
Western Michigan University
Forss, Amy
Hungary
History
Metropolitan Community College
Gray, Deborah
Botswana
Nursing
Old Dominion University
Guerry, Denita Hadziabdic
Ghana
Science
University of Tennessee, Knoxville
Hernandez, Jose Angel
Mexico, Philippines
History
University of Houston
Ippoliti, Drew
South Korea
Fine Arts/ Craft
University of Akron
Jackson, Kimberly
Antigua
Chemistry
Spelman College
Jefferson, Renee
Australia
Law
University of Houston
Johnson , Jeffrey
Chile, Ecuador
Geoscience
Boise State University
Jones, Rhonda D.
Senegal
History & Library Science
University of North Carolina at Greensboro
Jones , Steven
Namibia
Civil, Construction, and Environmental Engineering 
University of Alabama, Tuscaloosa
History and Funding

The Fulbright Scholar Program, funded by the U.S. Department of State, supports more than 800 U.S. faculty and professionals each year to teach and/or conduct research in more than 125 countries around the world.  A key priority of for the State Department and the Institute of International Education (IIE), is to increase the diversity of the scholars who participate in the program and the range of U.S. higher education institutions that are represented overall.  To support this goal, IIE launched the Fulbright Scholar Alumni Ambassador Program.

The Fulbright Scholar Alumni Ambassador Program selects, trains and utilizes a select group of Fulbright Scholar alumni to serve as representatives for the Fulbright Scholar Program at campus presentations and academic conferences across the United States.  Ambassadors are selected from the full spectrum of U.S. academic disciplines, higher education and geographic regions.  Ambassadors serve a two-year terms and present information on their Fulbright experience at multiple outreach events each year.

Alumni Ambassador activities are supported by IIE's Fulbright Legacy Fund, sponsored by the IIE Board of Trustees.

Snapshot of Events

How to Become an Alumni Ambassador

The Fulbright U.S. Scholar Alumni Ambassador Program is designed to increase the Fulbright U.S. Scholar Program's visibility nationwide and expand the diversity of future participants. Fulbright Alumni Ambassadors serve as representatives, recruiters, and spokespersons by sharing their experiences with audiences at campus presentations and conferences, by writing articles, assisting with digital outreach and social media efforts, and participating in recruitment webinars. Fulbright Alumni Ambassadors come from an array of backgrounds, geographic locations, disciplines, and institutions. They have participated in the Fulbright U.S. Scholar Program in all world regions and through all types of grant activities.

We appreciate your interest in serving as an Alumni Ambassador for the Fulbright U.S. Scholar Program. Applications are considered on an annual basis, and will open again in the Fall of 2024. 

Please note that IIE receives significant interest in participating in this program, and not all requests can be accommodated.

We encourage all alumni to continue their engagement with the program by:

Joining the Fulbright Association
Serving as a Scholar Liaison/Fulbright Program Adviser/Application Reviewer
Serving on the Campus Review Committee
Submitting a story, video, or photos and engaging with us on social media

Upcoming Fulbright Scholar Alumni Ambassador Events

Blog Posts and Scholar Stories
For a complete list of Alumni Ambassadors appointed since the program's inception, please visit the Alumni Ambassadors Appointments page.