Fulbright U.S. Scholars return from their time abroad ready to enrich their host institutions. The program is well-known for being life-changing for faculty, their dependents, and their host institutions, but what is often overlooked is just how demonstrably beneficial Fulbright grants are for U.S. Scholars' home institutions. In exchange for faculty members taking leave for a semester or a year, U.S. colleges and universities reap long-lasting benefits.
The Institute of International Education's report, "Global Impact and the Fulbright Effect" analyzed 10 years of alumni data from 2005-2015 and proved the value of faculty Fulbrights for institutions. The most recent 2021 Alumni Impact Report also addresses immediate contributions scholars have made to their home institutions post-Fulbright. 
Benefits to colleges and universities affect both research and teaching.
Image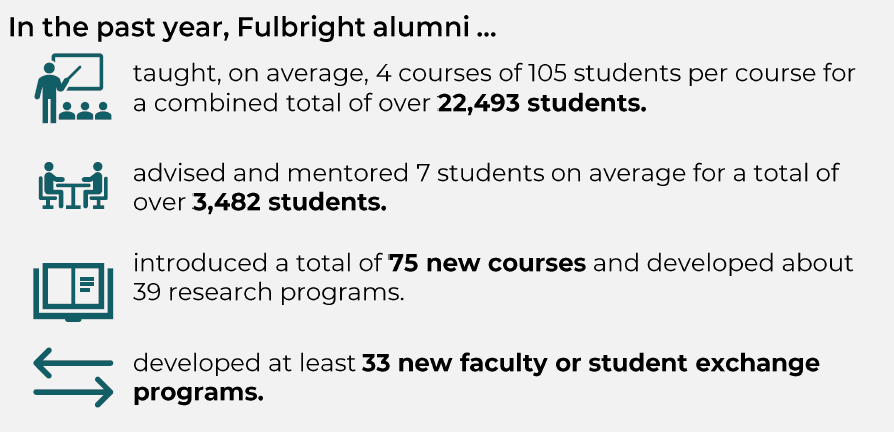 Research
First, Fulbright U.S. Scholars conducted substantial, well-disseminated research that impacted their academic fields. They produced 30,000 deliverables in the form of presentations, publications, public-facing exhibitions and journalism.
Image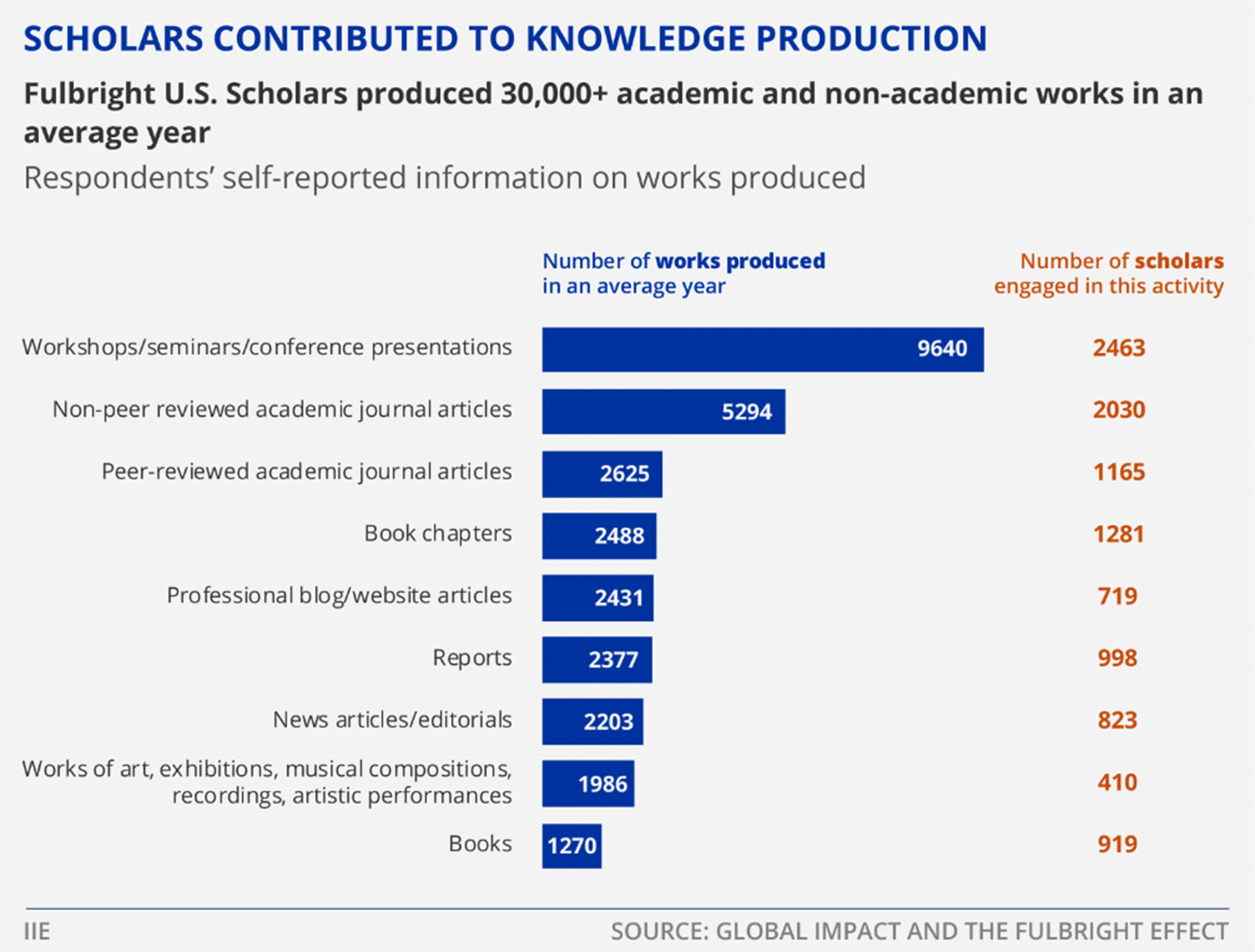 Second, by obtaining prestigious Fulbright grants and by gaining familiarity with and confidence in seeking external grant opportunities, faculty went on to earn further external funding, into the millions of dollars. They created additional value for their departments and institutions.
Image

Lastly, the enduring connections that faculty made abroad led them to foster further research networks at home in the U.S. Their Fulbrights propelled them to undertake new programming initiatives in research.
Image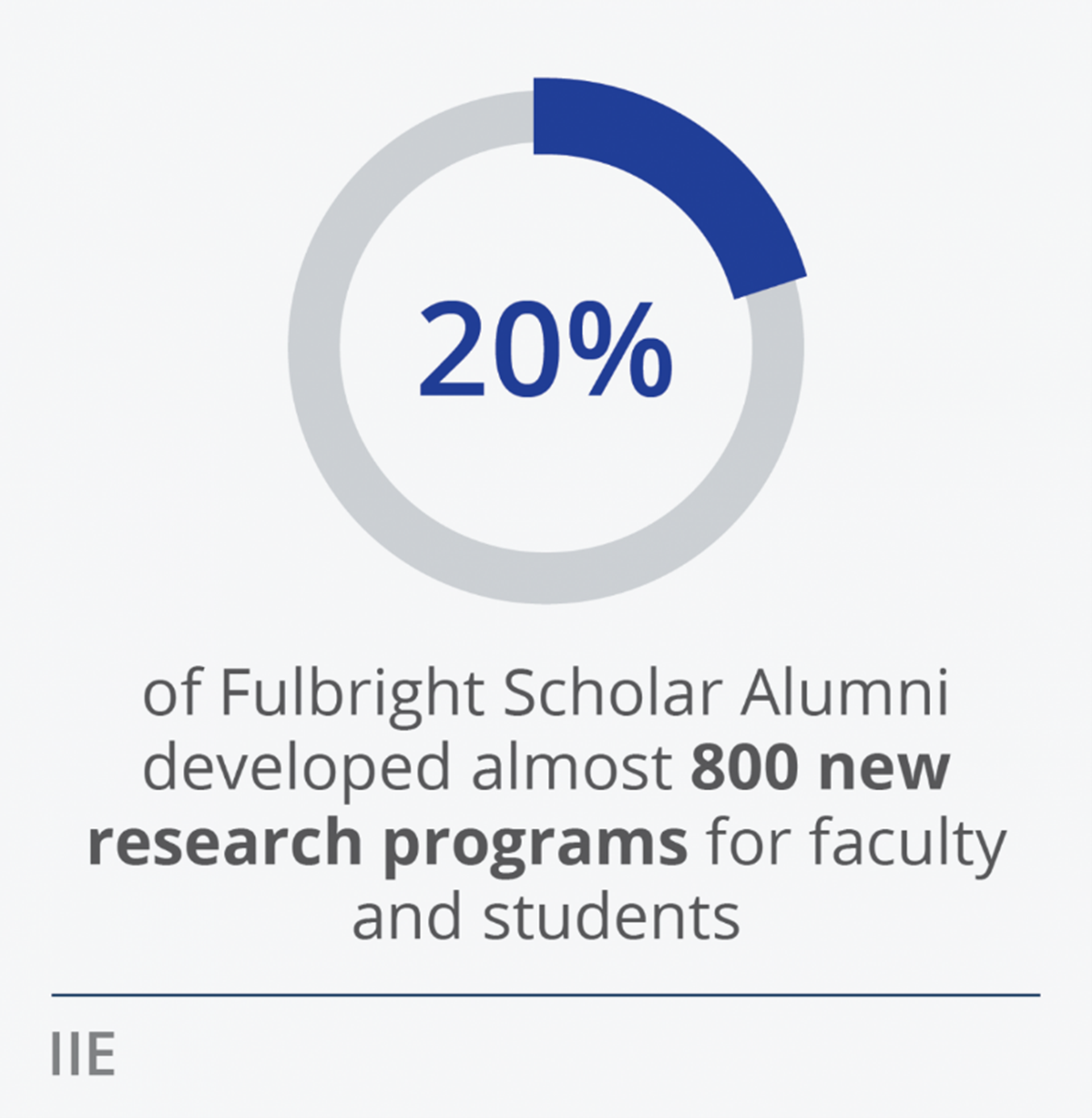 Teaching
In classrooms around the world, faculty gained transferrable skills that made them more effective teachers at their home institutions. In the 2019-2020 cohort, there were marked improvements in faculty's skills in teaching. Fulbrighters defined goals before their grant, felt themselves actively growing as teachers during the grant, and sustained their improved methods upon returning.
Image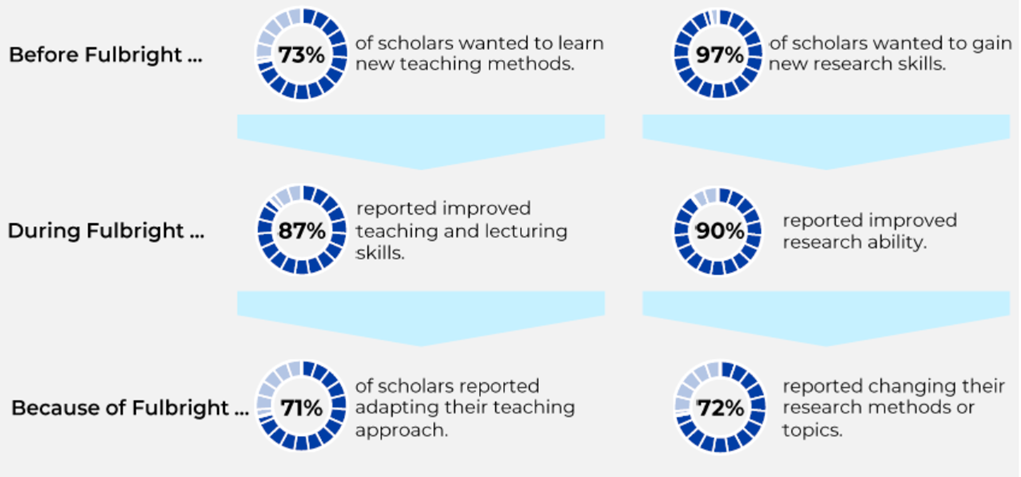 Furthermore, inspired by their time abroad, educators expanded their course offerings. Between 2005-2015, faculty implemented 2,260 new courses inspired by their Fulbright experiences internationalized their campuses and passed the benefits on to students.
Image
By improving their teaching and diversifying their courses, scholars reached more students than ever before. This creates structural internationalization that sustains itself over time and encourages students to also consider research and teaching abroad.
Image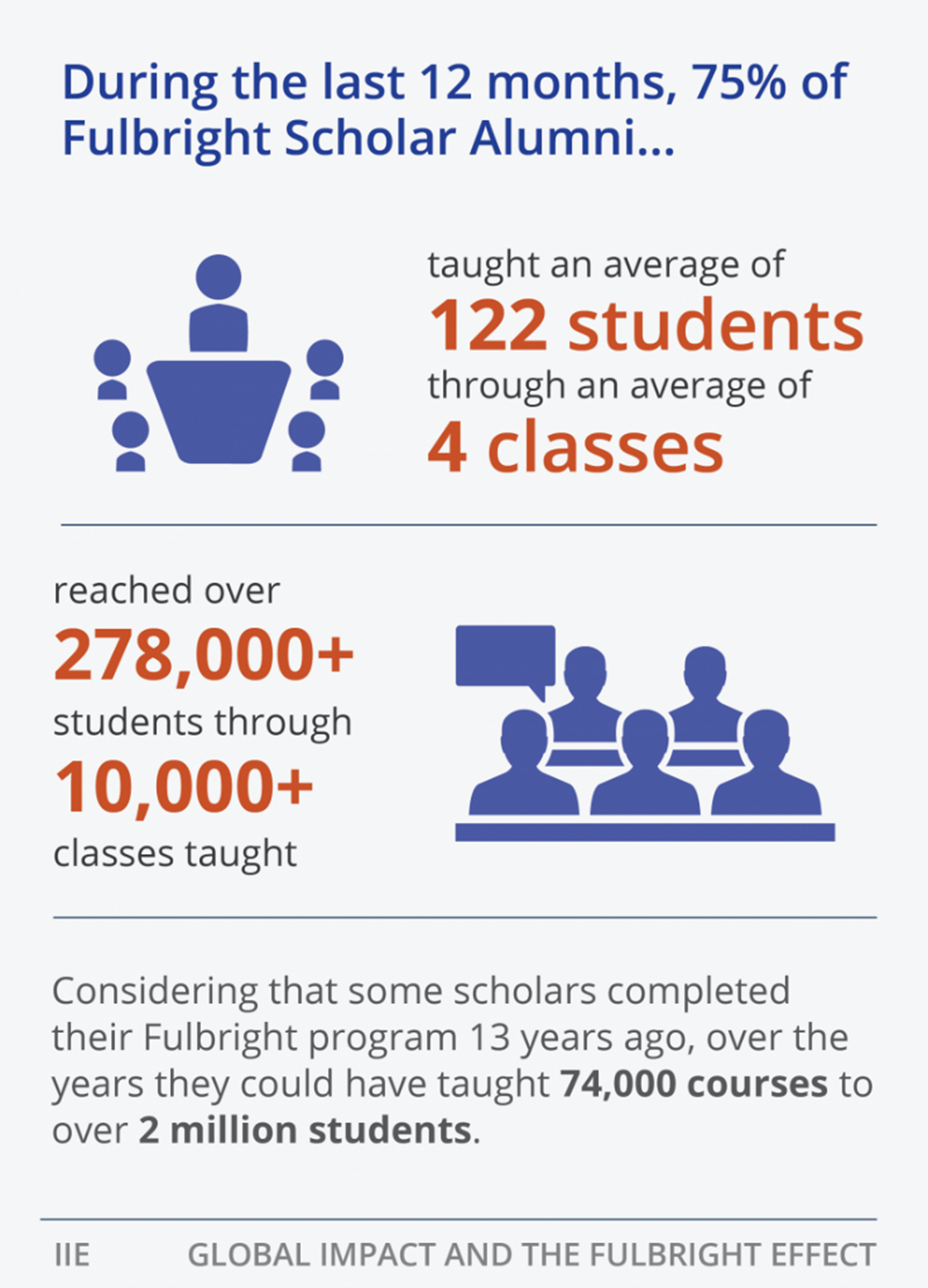 Lastly, Fulbright recipients expanded their reach beyond the classroom itself and engaged more deeply with their advising activities. 
Image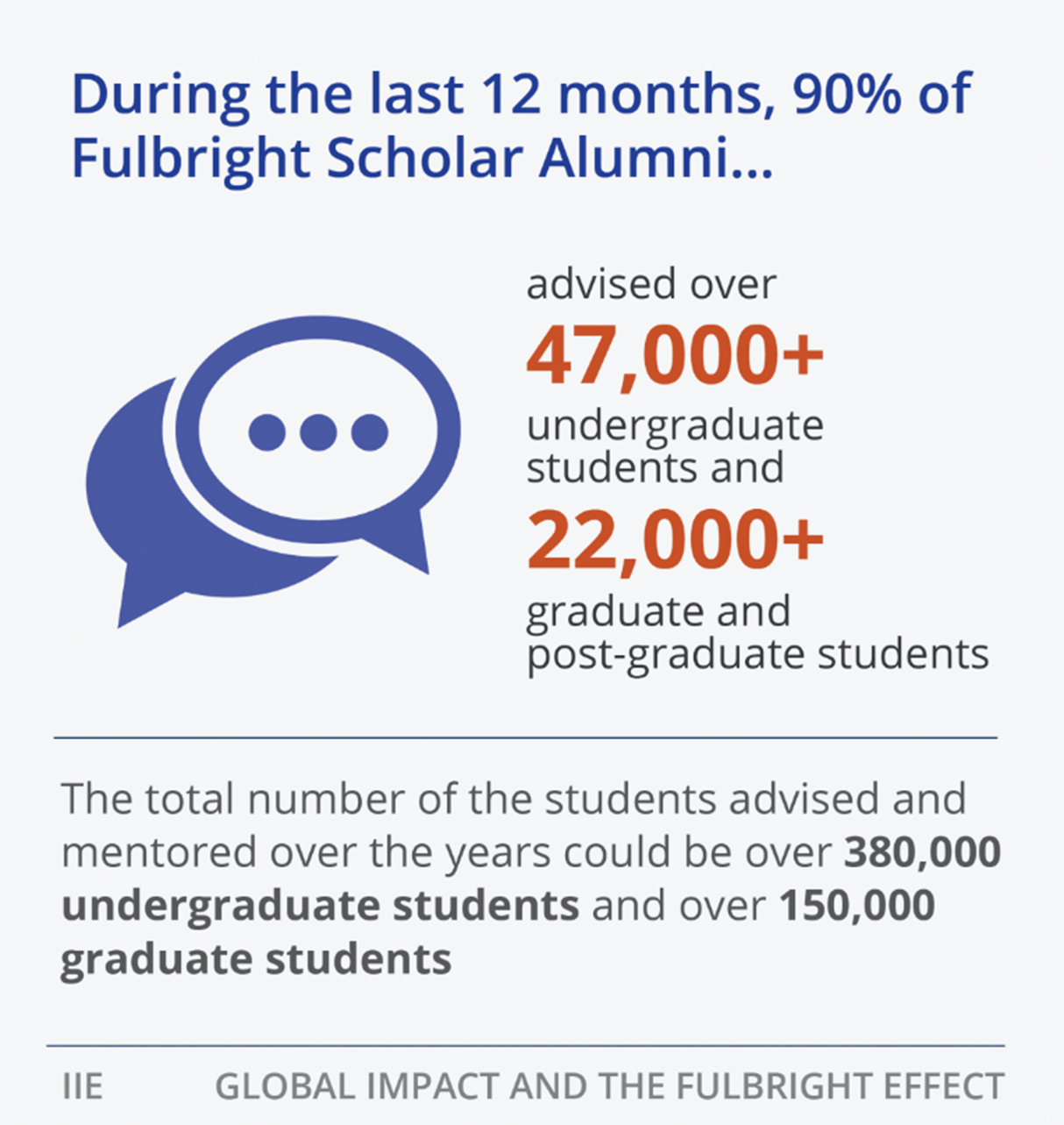 Conclusion
The "Fulbright Effect" has a demonstrable impact not only on Scholars themselves but on their home colleges and universities. This is a critical piece of Fulbright's mission of "citizen diplomacy" that goes beyond representing the United States abroad by bringing the benefits of international travel and work back to Scholars' campuses.
Finally, Scholars could feel the benefits of Fulbright's network and reputation: 44% of alumni felt their association with Fulbright was the primary benefit of their alumni status. The name "Fulbright" gave faculty access to a thriving network of fellow grantees, with 81% of alumni staying in touch with another Fulbrighter. This alone helped faculty forge connections that continue to enrich their careers and the knowledge production, teaching, and departmental service that goes back to their home colleges and universities.