Award Story
Interpreting Musical Complexities Through the Head and the Heart
Kristina Jacobsen
2019 U.S. Scholar to Italy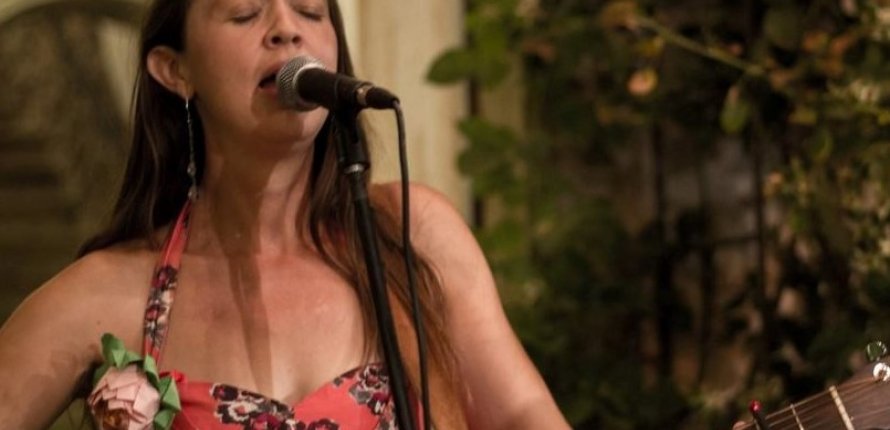 Dr. Kristina Jacobsen is a multi-talented cultural anthropologist and singer-songwriter who explores cultural identity through music. She is best-known for her work with the Navajo Nation in New Mexico, where she spent two-and-a-half years singing and playing steel guitar with country-western bands. Her time in the Navajo Nation led to her first book, The Sound of Navajo Country: Music, Language and Diné Belonging, which examines questions of Indigenous identity and performance by focusing on the surprising and vibrant Navajo country music scene.

Dr. Jacobsen is an associate professor of ethnomusicology and anthropology at the University of New Mexico (UNM), as well as the founder and director of the UNM Honky-Tonk Ensemble. At UNM Dr. Jacobsen challenges students to step outside their comfort zones and use music and songwriting to gain an understanding of race, class, language, and gender.
In 2019, Dr. Jacobsen traveled to the Mediterranean island of Sardinia, Italy as a Fulbright U.S. Scholar on the Fulbright-Fondazione CON IL SUD grant from Founzadione CON IL SUD, an Italian foundation that promotes the social and economic development of Southern Italy. Her research in Sardinia centered on how speech and music offer a perspective on Sardinia's colonial past and current "postcolonial" period.
While in Sardinia, Dr. Jacobsen wrote, produced, recorded, and released a brand-new album; co-authored articles with Sardinian colleagues at the University of Cagliari; and completed research for her second book project, Sing Me Back Home: Ethnographic Songwriting and Language Reclamation in Sardinia, Italy. Her Fulbright also allowed her to focus on future collaboration, including the creation of a brand-new study abroad course at UNM: "Singing and Ethnography of the Mediterranean: Sardinia, Italy;" and to develop an immersive week-long songwriting workshop in Santu Lussurgiu, Sardinia, called "Songs of Sardegna." She also plans to bring Diego Pani, a Sardinian ethnomusicologist, to UNM to collaborate through the Fulbright Scholar-In-Residence Program. 
Dr. Jacobsen reflects on the impact of her Fulbright: "Fulbright was an incredible privilege and experience to have. It allowed me to forge many connections: I left with a new community of artists and musicians, new friendships, and new insights into the complexities of language, politics, sovereignty, and poetics on this beautiful island nation. Sardinia is now not just in my head, but in my heart."