Blog Post
Returning to Bhutan: The Immediate Impact of My Fulbright Scholar Experience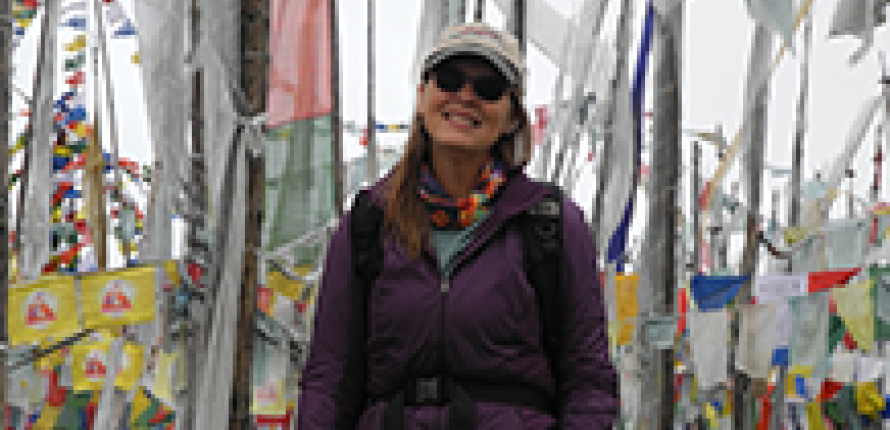 Karen Beardsley, Academic Coordinator of Environmental Sciences, University of California, Davis 
2015-2016 Fulbright U.S. Scholar to Bhutan 
It feels like I never left. I quite naturally slipped on my traditional Bhutanese kira before starting class, and even remembered how to tie it properly—which is complicated and had taken me months to perfect. Stray dogs greet me as I walk up the hill to the college, and familiar faces on campus stop to welcome me back. I recognize the feeling of the thin air as I climb the steep hill to campus. Yes, in so many ways, I have returned home. 
It's been 16 months since I left the mountainous Kingdom of Bhutan, where I had lived and worked as a Fulbright Scholar during the 2015-16 academic year.  I taught Geographic Information Systems (GIS) at the Royal Thimphu College (RTC) and worked with government ministries to develop and coordinate their GIS programs. It was a fantastic, life-changing experience for me and for my husband and daughter (then 11 years old) who both joined me. I am so fortunate to have the opportunity, now, to return for a few weeks to teach a GIS workshop for the Bhutan National Biodiversity Center.   
While my surroundings feel the same, I also notice a few things have changed. Professors at RTC have come and gone, with at least half arriving since I left. Construction in the valley on the way to the College is booming, making the serene, windy road from town unrecognizable in places. The number of cars on the road has increased dramatically, and traffic in the capital city of Thimphu now becomes gridlocked at times. For a country without a single stop light, this is disheartening to see.   
But the stores in downtown Thimphu are mostly the same, and shop owners are welcoming me back with open arms, as they did just 16 months before with my family and me. Even some of the stray dogs seem to remember me! 
This second trip to Bhutan is possible because of a UC Davis Global Affairs Seed Grant that I was awarded while I was a Fulbright professor. Through the grant, I am collaborating with the Bhutan National Biodiversity Center, as well as with the Ministry of Agriculture and Forests, to teach a two-week GIS workshop and to discuss future partnerships between the Ministry and UC Davis. 
Another component of my Seed Grant is to develop a Study Abroad program for bringing a cohort of UC Davis students to Bhutan for the first time. With this said, I am now working with RTC to finalize the details of the upcoming Summer Abroad course, which I will lead in August and September of 2018.  This inaugural program will bring 24 UC Davis students to RTC to learn GIS and experience the Bhutanese culture and landscapes.  
I imagine this cohort of UC Davis students will find the people and culture of Bhutan as fascinating as I do. And I hope the program will leave them with a long-lasting appreciation for international learning. It was during my time as a Fulbright Scholar that I realized my true passion for international education. In fact, I returned to UC Davis with this passion and I joined Global Affairs full-time as the Director of Sponsored Programs and Special Projects, which includes the Humphrey Fellowship, Mandela Washington Fellowship, and Fulbright programs at UC Davis, among other international exchange activities.  
With the memories still strong from my first stay in Bhutan, this short return visit has been an amazing, fulfilling and collaborative experience. I know I will leave Bhutan prepared to bring students here next summer—a unique opportunity to see a country I've come to know so well through their eyes and perspectives.