Blog Post
Implementing Teacher and Administrator Education in Bahrain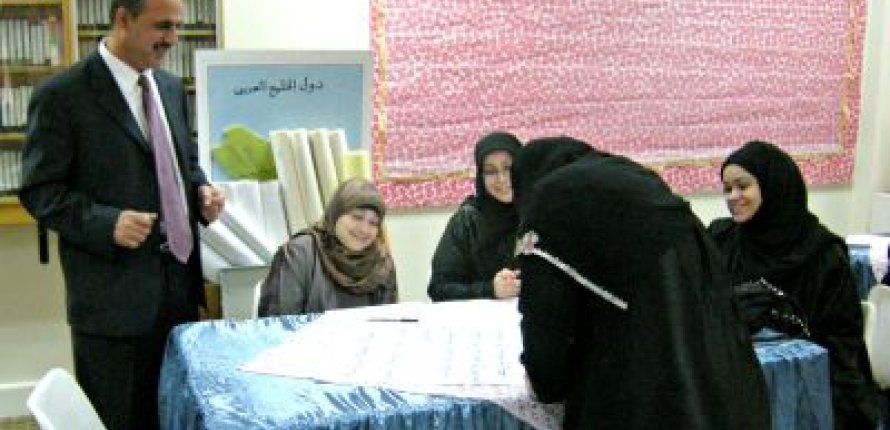 Mahmoud Suleiman, Alumni Ambassador
Professor and Department Chair of Education at California State University, Bakersfield
2009 – 2010 Core Fulbright Scholar to Bahrain
The Fulbright experience is a life-changing endeavor.  It is an act of discovery and renewal in all aspects. For me, it has been the most rewarding journey of my life, literally! It afforded me an opportunity to delve deeper in a unique place and culture that has broadened my conceptual awareness and enhanced my understanding of myself through the understanding of others.
Although the University of Bahrain has always had Fulbright scholars and students across various university programs, in 2009 I was honored to be the first Fulbright Scholar at the newly established Bahrain Teachers College at the time. Thus the Fulbright award was timely as I joined the vibrant establishment with big dreams for creating globally competitive teacher and administrator training programs.
With so many ambitious initiatives as part of the mission and vision of the university, I found ample opportunities to learn from and contribute to my newly adopted host K-20 community. As a forum to benefit the program that seeks to integrate the best trends and practices in teacher and administrator preparation, my residency was full of interactions with colleagues, staff, administrators, students, and the community across the kingdom.  Joining the elite teams of professionals was not only powerful but also empowering!
Through my participation in a series of training workshops for educators at the Bahrain Teachers College at the University of Bahrain (UOB), I have affirmed my strong belief that teacher and administrator training initiatives are cast to the same mold of similarities at the universal level.  The multi-tier series included daily workshops and seminars focusing on the role of the instructional leaders as cultural brokers and change agents in schools.  Using interactive modes of professional learning and engagement opportunities, my role was to model best practices and facilitate discussions about pressing topics facing schools in the kingdom. Consequently, I was frequently invited to visit school sites to conduct workshops about the best practices in helping K-12 students meet and exceed prescribed standards. One approach I modeled was the use of instructional differentiation and multiple intelligence based practices, which teachers found to be didactic and pedagogically appealing.
Moreover, I conducted several workshops and seminars for teacher candidates at Bahrain Teachers College to assist them in developing their electronic portfolios.  Using the teacher education benchmarks as adopted by the Ministry of Education, I worked with faculty and program personnel to create a series of rubrics and performance expectation guidelines that serve as a blueprint for documenting the knowledge and skill base of candidates in the program.  Assisting in developing and implementing a series of professional learning workshops for pre-service teacher candidates, veteran teachers and vice principals on current trends and practices in effective instructional leadership has been one of the highlights of my Fulbright experience.  The workshop series focused on a wide range of pedagogies and techniques to enhance performance learning and teaching outcomes in changing schools.  Most importantly, the cultural competency and global literacy in education programs have become the axiom upon which everything turns.
The multifaceted learning outcome and profound impact the Fulbright residency are limitless.  I have continued my professional collaboration with faculty and administrators.  For example, I joined the editorial board of the UOB-based Journal of Teaching and Teacher Education and contributed an article in the first inaugural edition published in January 2013.  I continue to serve as a reviewer and advisor for the journal and its staff.   In addition, I co-authored a book published in 2014 by the UOB-based Natural Science Publishing Corporation.   However, a noteworthy value involves promoting my sociopolitical literacy in relation to the U.S. diplomatic mission especially in this unique region.  Investing in international exchange educational programs is a major undertaking and has been a seamless daily routine in the lives of the impressive consummate professional, embassy staff and personnel.   In fact, I truly felt that I became an international education ambassador and a viable intercultural adviser for a much needed peace education.
Here at home, I often share some of my experiences with students and colleagues in an attempt to entice them to explore the world and harness their full potential through the optimal opportunities provided by the Fulbright Program.   I bring them the universal and experiential perspectives that defy perception and embrace keener understanding of their true roles as global citizens. The Fulbright grant will continue to be the anchor of personal and professional activity that has a lasting impact on me.
Take a look at a more in-depth interview with Mahmoud Suleiman here.