Blog Post
Growing Entrepreneurship in Transitioning Economies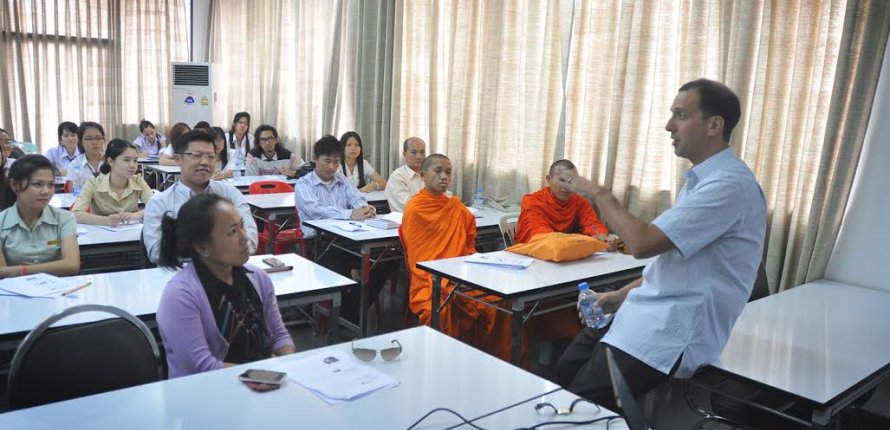 In 2012, the Vietnamese government asked me to organize a seminar in Hanoi on how to support the growth of entrepreneurial ecosystems while I was teaching there as a Fulbright Scholar as a professor at the National Economics University. Vietnam is one of the most entrepreneurial countries I have visited. Every very inch of street in Hanoi is crammed with mom-and-pop vendors selling everything from homemade chicken soup (pho) to batteries to nail clippers to toys. Vietnam's government is now searching for innovative new ways to tap that spirit. The goal is to boost technology-based entrepreneurship that could lead to significant job growth and wealth creation.
It may surprise you to learn that my hosts asked me not to focus on the success of Silicon Valley. Practically speaking, that would be hard to replicate in Southeast Asia. Instead, they wanted me to look at how my hometown, Cleveland, went about supporting young, high-growth companies.
After the decline of its manufacturing economy in the 1980s and 1990s, Cleveland saw its economic prospects dwindling. The city decided to support entrepreneurship through an array of new programs and institutions that were aimed at growing technology-based entrepreneurship, and have been successful in sectors from biomedical to software. Vietnam's economy, while very different, is also facing great change. The country introduced market reforms in the 1980s to move away from a centrally planned economy, and the nation has been going through a major economic transition.
My hosts in Vietnam wisely realized that the first step is to find an approach that works in your community. Many leaders interested in building an entrepreneurial ecosystem look at Silicon Valley as the gold standard and ask themselves, "How did they do it there and how can I replicate that?" What community wouldn't want a Silicon Valley of its own? But that model won't work everywhere. In fact, it can't work in most places due to insufficient private sector resources.
In transitioning markets where there is not a robust entrepreneurial ecosystem financed by the private sector (and that's what made Silicon Valley work), government officials, donors and business leaders need to experiment with creative approaches to support the growth of entrepreneurs.
That's what I emphasized in the week-long seminar for the Vietnamese National Agency for Technology Entrepreneurship and Commercialization. Vietnamese government officials and attendees heard from the Ohio's innovative Third Frontier program, which provides funding for innovation to help the state improve its position in the global economy; a nonprofit organization called JumpStart that supports entrepreneurs in Cleveland, and Johnson & Johnson's Corporate Office of Science and Technology.
Building upon the lessons from the seminar, the Vietnamese government recently approved a new project focused on supporting the entrepreneurial ecosystem in Vietnam with financing for start-ups and for mentoring and networking initiatives. There is also a new investment fund being set up through a partnership with angel investors in Vietnam and the U.S. to back Vietnamese start-up companies.
When I returned to Case Western Reserve University after my Fulbright, I continued to think about ways I could help others create successful entrepreneurial ecosystems in transitioning markets around the world.
I became intrigued by the emergence of massive open online courses (MOOCs) as a way to reach thousands of students or anyone around the globe who is interested in entrepreneurship. Inspired by my Fulbright experience in Vietnam, I am developing a new MOOC called "Beyond Silicon Valley: Growing Entrepreneurship in Transitioning Economies."  It will begin on April 28th and we already have over 10,000 students registered for the course.  A group of my former students and colleagues in Vietnam will be organizing meet-ups around the MOOC so we can continue the dialogue we started while I was in Hanoi.
Unlike many MOOCs that tape and rebroadcast lectures from professors, my course will not feature me as a lecturer. Instead, students will hear directly from entrepreneurs and thought leaders from Cleveland and selected international markets. We'll look at the practical aspects of how communities in transitioning economies can enable the growth of entrepreneurship when the resources from the private sector alone are limited.
Each MOOC video lecture is around 12 minutes in length and will feel like an engaging documentary. Here a link to my introductory video for the course.  Participating students will also have the opportunity to contribute their own short videos that document how entrepreneurs in their home communities have grown their companies using the resources of their local ecosystem—and where gaps and challenges remain.