Blog Post
The Fulbright Family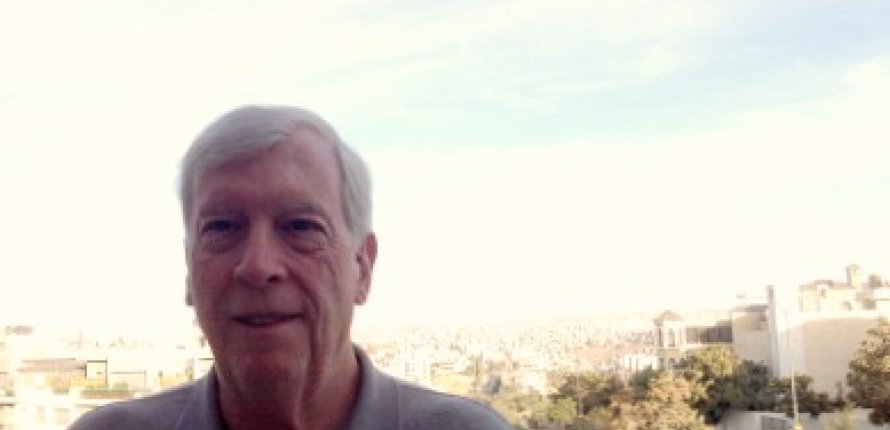 Terry Tucker, Instructor of Nursing, & husband David Tucker
2015 Core U.S.Fulbright Scholar to Jordan
After we retired, my wife, Terry, became a nurse to find meaning through service to others. She became interested in the educational aspects of nursing and went on to earn a doctoral degree, and win a Fulbright to Jordan, all post retirement. Because Terry is a retired attorney, she decided to concentrate, as a Fulbright U.S. Scholar, on helping others through teaching and community volunteer work. I decided my job, as a Fulbright dependent, would be to explore apartment options before arriving in Jordan and then arrange our sight-seeing once there. To prepare for our trip and make friends I joined on-line Jordanian forums and planned to bring Scrabble and my tennis racquet to fill free time while my wife taught at the university.
Now that we're here it's evident the planning paid off. We arrived to the warm welcome of many new friends I had corresponded with before our arrival. Everyone is helpful, providing suggestions to ease us into local society, and inviting us to join them for dinner, the symphony, hiking, and other fun cultural activities. And I'm glad Terry applied for a Fulbright in Jordan. The Jordanian-American Commission for Educational Exchange (i.e. the binational Fulbright Commission in Jordan) has a warm and welcoming staff that provided help in everything from apartment assistance to car rental suggestions to healthcare tips and much more. They helped those with children and those, like me, who are Fulbright spouses. Anyone who is considering accompanying a family member, or bringing children, should jump at the chance. It's a wonderful opportunity to experience a new culture.
Jordanians themselves are warm and welcoming, the food delicious, and the historical and cultural setting amazing. We were invited into Jordanian homes, a wedding, stood where Moses stood as he gazed into the promised land, toured ancient Roman ruins, floated in the Dead Sea, and visited the site where Jesus Christ was baptized. Coming to a more complete understanding of Islamic culture, and Middle East current events, is a wonderful and broadening experience.
Many experiences stand out, including being invited into a Jordanian home. My wife volunteered to teach and edit English writing of all types for locals, whether or not enrolled in the university. We were pleasantly surprised that as a "thank you" we were invited for dinner to a student's home. It was quite an adventure. She made a huge and tasty meal of local delicacies. It started with juices and coffee. The Arabic coffee is made with cardamom and cloves and served in tiny cups. The juices are varied, fresh, and delicious. Then we had salads. Jordanian salads are plentiful and each has a theme, whether eggplant or chickpea or diced tomatoes and cucumbers. After the salads, we ate the most flavorful and tender chicken I've ever had. And, as if that wasn't enough, in the center of the table was a huge round platter piled high with rice. Atop the rice rested meat and vegetables, coated with a layer of roasted slivered almonds. Their generosity was staggering and that's just one example of the kindness we've received here.
In another instance, I was walking down the street from the mall, and in front of the U.S. Embassy, when a policeman waved me over. Since I wear a silly looking cancer prevention hat it was obvious I'm not from around these parts. I was ready with my best "please-officer-I'm-just-a-poor-foreigner" defense. As I approached I saw three fully armed and combat ready officers wearing bullet proof vests in this parked car in 100-plus degree heat. The heat alone could make anyone cranky. When I got to the car one officer extended his hand to shake mine. I asked if any of them spoke English and one got out of the car. The next thing I knew they were all out of the car, shaking my hand, and inviting me to share their Turkish coffee. Yet another example of how Fulbright has given not just my wife the opportunity to be a goodwill ambassador for our country, but me too.
It's an honor to help Terry in her journey as she lectures at the University of Jordan, helps others with their English, and fulfills Senator Fulbright's mission to strengthen cultural ties through educational exchanges. It's also an honor to be here as a Fulbright dependent and share the adventures, and the culture of our country, with others. If you'd like to read more about our Fulbright adventures, I invite you to read my blog at FulbrightHusbandinJordan.blogspot.com.