Blog Post
Bridging Cultural Divides Through Music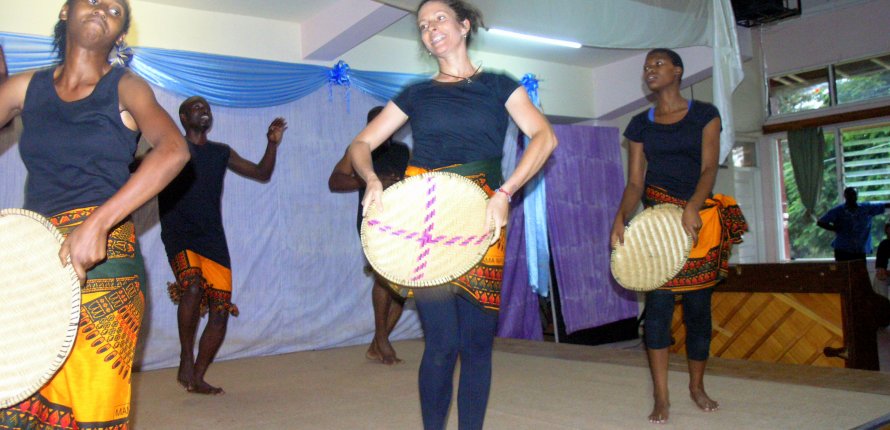 Daris Hale, Fulbright Ambassador
Senior Lecturer, School of Music at Texas State University
September 2010 – August 2011 Fulbright Scholar to Tanzania
The drums beat wildly as I danced toward center stage and then fiercely jiggled my grass-skirted derriere for a packed arena of screaming Tanzanians.
I'm a Fulbright Scholar and a bassoonist.  Normally,
my adorable fans are bow-tied intelligentsia that would never applaud between movements.  Prior to this experience, years passed uneventfully as I performed symphonies, chamber music, and offered riveting lectures on woodwind literature and bassoon performance practice.  None of which seemed immediately relevant to the musicians of Tanzania or to grass skirts.  But music easily bridges those vast cultural divides.  As a Fulbright Scholar during 2010-2011, I became part of the music faculty at Tanzania's Makumira University and joined their touring troupe, the wildly popular African Ensemble.  With the support of the Fulbright Program, we performed for a wide range of audiences included many underserved communities and concluded with a performance at the U.S. Embassy.
In my Fulbright research, I collaborated with the masterfully talented and animated East African musicians.  Because of my career commissioning, recording, and performing American chamber music, I understood the necessity for global infusion into this genre.  Classical music would appreciate fresh compositional voices.  I taught formal music courses at the university while coaching young African composers to write for western symphonic instruments.  My symphonic colleagues traveled from abroad to perform the world premieres from Tanzania, Kenya, and Uganda.  The composers were able to be present and witness these live performances.  Recordings and archival websites were posted for future study.  New commissions for many of the composers have resulted from this incubation project.
In addition to this collaborative project, I enjoyed lecturing at the Makumira School of Music.  Even without a woodwind curriculum, I engaged the students in music theory and music history courses.  They were immensely grateful for dedicated instruction.  The teaching was very rewarding and it rejuvenated my interest in music education abroad and back home.
Beyond research and lecturing, the brightest highlight was my family's cultural experience.  My children, seven and nine, enjoyed a home school c
urriculum in the mornings and then afternoons of climbing trees, chasing monkeys, fishing, swimming, and playing with Tanzanian children within the safe confines of the University campus.  We milked goats, picked mangos, gardened, and raised chickens.  Once the University discovered my husband's superior credentials they utilized his teaching talents as well.
Our social fortunes ran deep as we were allowed to step into the society through one of the most valued gates of culture--music.  Since my return home, I've worked with the leaders of my host institution to assist with an international conference and co-authored a multi-million dollar grant for the creation of a premier performing arts facility in East Africa.  My family is still enjoying the company of Tanzanians, as we have been hosting exchange students while they obtain graduate degrees in the states.  I gently urge my colleagues to apply for similar situations and remind them that they, too, will look great in a grass skirt.