Alumni Ambassadors
Jose Angel Hernandez
Image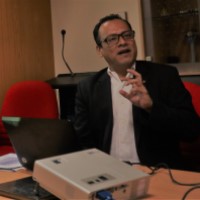 Job title
Associate Professor of History
Academic year
January - May 2019 (Philippines) | January 2015 - July 2015 (Mexico) 
Project
Comparative Colonizations on a Global Scale  
I am currently an Associate Professor of History at The University of Houston and also the Director of Library and Technology Services.  
Thanks to a Fulbright Dissertation Fellowship during graduate school, I researched Mexico's evolving immigration laws and policies during the nineteenth and twentieth centuries. As a result of that research, I was able to complete my Ph.D. dissertation at The University of Chicago, and subsequently, my first book titled Mexican American Colonization during the Nineteenth Century: A History of the US-Mexico Borderlands, (Cambridge University Press, 2012). The monograph was awarded two book prizes, including the inaugural William M. LeoGrande Prize for Best Book on US-Latin American Relations presented by the School of Public Affairs and Center for Latin American and Latino Studies at American University, and also the "Américo Paredes Book Award" from South Texas College.  In 2015, I was awarded a US Fulbright Scholar Award to complete research in Tijuana, Baja California and Mexico City.
In 2019, I was awarded my third Fulbright to research the Colonial archives of Cebu City and Manila, Philippines. Aside from doing primary and secondary research on the Philippines during the Spanish Colonial Era, I also took language courses in Bisayâ (Cebuana/Binisayâ), which is one of the most spoken languages of the archipelago. My long-term project is titled "Comparative Colonizations on a Global Scale" and seeks to compare the varied experiences, effects, and expressions of Spanish colonization in Africa, Asia, America, and the Caribbean. 
Ask Me About:
As me about anything, especially related to research and locating archival materials and conversing with government officials abroad.