Alumni Ambassadors
Jeffrey Stanley
Image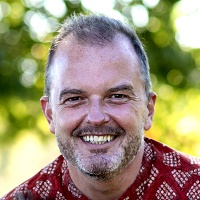 Job title
Adjunct Faculty
Academic year
August 2018 - May 2019
Discipline
Film and Theatre
Project
Late 19th and early 20th century Bengali film and theatre and their impact on India's nascent Independence Movement
Jeffrey is a playwright, screenwriter, filmmaker, performance artist and essayist for the Washington Post, New York Times, and other publications. He is also an adjunct screenwriting faculty at both NYU Tisch and Drexel University.  At NYU, he teaches in both the Goldberg Department of Dramatic Writing and in Tisch Open Arts. At Drexel he teaches several courses in the Screenwriting & Playwriting Program. Jeffrey has served as a Fulbright student adviser at both institutions, and often worked with Drexel's Office of Global Engagement on Fulbright matters, even prior to becoming an Alumni Ambassador. 
Aside from research, Jeffrey gave lectures and playwriting and screenwriting workshops at his host institution and other organizations, and was a featured performance poet at an event honoring Rabindranath Tagore. Since returning, he has written a scholarly memoir, enhanced his course content, and is working with Drexel on applying for a Fulbright Scholar-in-Residence fellowship to bring an Indian director to the department.    
Externally, he co-founded the Independent Film Circle, an online group discussing independent Indian cinema and featuring esteemed speakers and guest teachers. Their growing membership includes participants in the US, India and Bangladesh.    
Ask Me About:
Being a minority abroad
Navigating your daily life when you barely speak the language in a developing country
Traveling alone within the country
The daily importance of being a cultural ambassador representing the US
What to bring with you to India and what you can easily find and buy there.