Alumni Ambassadors
Guenet Abraham
Image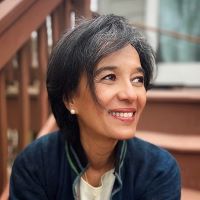 Job title
Associate Professor
Academic year
August 2017 – May 2018, August 2018 - May 2019
Project
Collaborative Research for Sustainable Solar Technologies
I teach in the Visual Art department in the Graphic Design concentration. Graphic design is a broad field in practice, theory, and teaching. I teach primarily courses that focus on typography and visual communication. My studio practice is mainly in book design. My work has been recognized and exhibited by national design organizations such as AIGA, UCDA, MMA, and Paris/Photo.
I was born and partly brought up in Ethiopia. In my early teens, I emigrated with my family right before a communist regime, DERG, deposed the emperor and established a brutal regime from 1974 to 1992. I went back to my home country for the first time after about 42 years as a Fulbright fellow to teach at the Alle School of Art and Design and investigate and create an installation piece on the Red Terror years. In the early years of its rule, DERG waged a brutal war against civilians and anyone suspected of opposing the new regime. Unfortunately, I could not complete the project as planned due to unforeseen circumstances. However, as a graphic designer, I am trained to problem solve. I am interested in how graphic design can be used to engage the community and create a collaborative environment. I combined my teaching to create community-based art projects to revitalize public space. I also collaborated with the art school director to propose a first and new public museum dedicated to showcasing Ethiopian modern and contemporary art. The project was approved and built by the prime minister's office. On the museum's opening day, we welcomed over 7,000 local guests.
I am presently collaborating with my host institution to bring in a new exhibition on visual literacy in 2023. Additionally, I am working with my host institution to create a more robust Graphic Design degree program. The school primarily leans towards traditional Fine Arts practices.
Ask Me About:
How to relate to the local US embassy while on your Fulbright
What to consider if taking family, especially young children
Finances
How to prepare in case of health problems
Housing
How to prepare for lack of infrastructure
Cultural accommodation
Navigating racial relationships
Navigating a male-dominated society.