Alumni Ambassadors
Donathan Brown
Image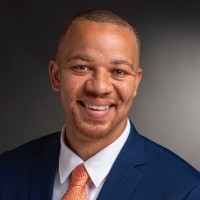 Job title
Assistant Provost & Assistant Vice President for Faculty Diversity and Recruitment; Associate Professor 
Academic year
January 2017 - June 2017
Discipline
Communications and Political Science
Project
Understanding Race and American Politics
I oversee the Office of Faculty Diversity and Recruitment, and am responsible for the development and execution of RIT's comprehensive vision for faculty diversity, recruitment and development, with particular attention to mentoring, academic diversity and equity, work-life policies and other climate issues.
On the academic side, I am a tenured member of faculty, with expertise in race and public policy, especially as it pertains to African Americans and Latinx communities. My research has materialized in both books and articles spanning topics ranging from voting rights, immigration reform and civil rights. I have provided expert commentary for many major media outlets, ranging from Forbes to the Huffington Post, along with media outlets in Canada and Slovenia.
During my time at the University of Maribor, I engaged in a teaching Fulbright, where I taught courses pertaining to American race relations and the politics therein. Hosted by the Department of English and American Studies, we enjoyed mutual shared perspective about curriculum, pedagogy and overall cultural exchanges and experiences.   
Ask Me About:
My experience as an African American living abroad.